Troy Michigan based criminal defense lawyer was featured by the Legal News in an article titled "Get to Know Daniel Hilf" on March 15, 2018.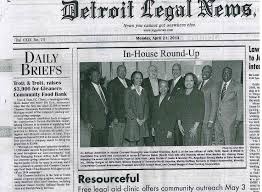 The Legal News is a publication relied upon by lawyers and Judges throughout the State of Michigan.  The lawyers profiled by the Legal News are well known and respected in the legal community for their areas of practice, and it is a great industry wide honor for any lawyer to receive this acknowledgment.  Being featured by the Legal News is not an advertisement or other paid for promotion, and it is not something solicited directly by the lawyer receiving the Legal News' recognition.   Determination is made by an internal selection process conducted by the Legal News.  Earlier this year his wife, immigration attorney specialist Sufen Hilf, also was profiled by the Legal News in a similar manner.
Kudos to attorney Daniel Hilf for a job well done.